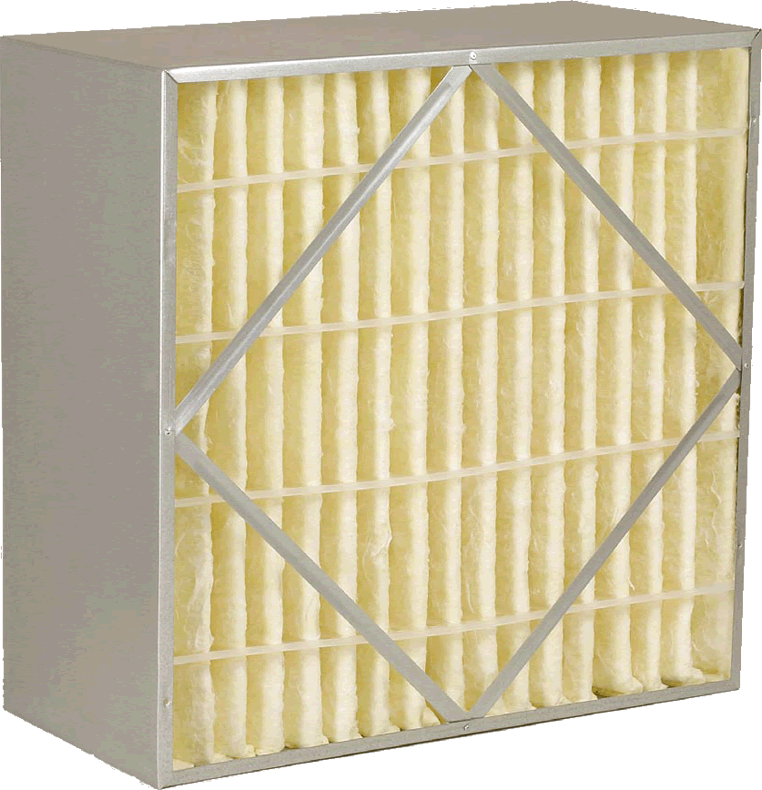 Stock Image: Size shown 20 X 20 X 12
Purolator
AERO-CELL Synthetic
High-Efficiency Fiberglass Rigid Air Filter
While this filter series has been discontinued, Please Call for a direct replacement that is guaranteed to fit and perform.
AERO-CELL S Filters - Construction
AERO-CELL S rigid box filters feature a high surface area-to-depth ratio to provide the maximum amount of effective filter media in areas of minimum in-line duct space. AERO-CELL S box filters provide medium to high-efficiency filtration and a longer life cycle, and they eliminate the need for retainers and special external wire media supports. AERO-CELL S filters are known for consistent performance in a variety of operating conditions. Available in a range of filtering efficiencies and sizes to satisfy and effectively service most applications.
Frame Construction - The AERO-CELL S perimeter frame is constructed of high strength, corrosion resistant galvanized steel. To prevent air bypass, the filter pak is sealed to the frame on all sides.
Media and Backing - Each AERO-CELL S filter utilizes dual-stage media. The first stage is a prefilter which consists of coarse synthetic fibers designed to arrest larger particulate in the airstream and enhance dirt loading ability. The second stage is a layer of micro-fine poly-propylene fibers spun-bonded and fastened to a polypropylene backing which captures the remaining smaller particles. This dual-stage media configuration increases the overall efficiency and dust holding capacity. The media is continuously bonded with solvent-free, water-based glue to expanded, corrosion-resistant, 28-gauge electro-galvanized steel which allows a 95% open face area.
Pleat Configuration - To achieve a maximum dust holding capacity while minimizing pressure loss and replacement frequencies, AERO-CELL S box filters incorporate aerodynamically wedge-shaped pleats in the design. The expanded metal backing and stationary pleat spacers allow consistent pleat configuration.
Applications - Each AERO-CELL S filter provides medium to high-efficiency air filtration capability for a number of distinct applications. These filters are specifically designed for situations requiring strict adherence to filter media specifications, including the pharmaceutical, food processing, health care, paint spray, and commercial property industries. AERO-CELL S filters will operate to a final resistance of 1.5" w.g.
Interchangable - The AERO-CELL S filter is designed to be completely interchangeable with all makes and types of medium to high-efficiency rigid cell filters. When used with Purolator conversion filter clips, existing side access and built up filter banks are easily converted to support the AERO-CELL S filter. In high dust concentration applications, the life of an AERO-CELL S is extended by the use of a prefilter. Purolator MARK 80-D® and Hi-E 40™ pleated filters have proven effective in such situations.
Underwriters Laboratories, Inc. Classification: AERO-CELL S filters are classified U.L. Class 2 per U.L. Standard 900.