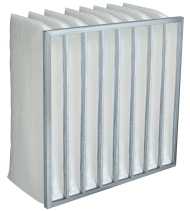 Purolator
Nano-Pak Bag
Top of the Line Bag Filter
Nano Pak Filters - Construction
Introducing the Nano-Pak! This top-of-the-line bag filter features the highest performing filtration media — delivering the lowest energy use and longest service life. Nano-Pak is a robust filter suitable for all environments and is the product of choice for customers who seek a higher performing bag and lower energy costs.
Key Benefits
✓ Low pressure drop
✓ Low energy costs
✓ Reduced environmental impact vs. fiberglass
✓ Resistant to humidity and moisture
✓ Revolutionary, patented NanoWave® media
Key Features
✓ Enhanced finishing for easier installation
✓ High mechanical filtration performance over the life of the filter – even after the most challenging discharge techniques
✓ High loft media optimized for the highest dust holding capacity
✓ Maximum surface use and superior air flow with uniform media spacing and rigid, self-supporting pockets
✓ MERV 16 captures 95% of particulate between 0.3 – 1.0 micron size particles
Technical Information
Name:

Purolator Nano-Pak Bag Filter

MERV Rating:

15, 16

What's This?
Underwriters Laboratories, Inc. Classification: Nano-Pak Bag filters are classified U.L. Class 2 per U.L. Standard 900.
Most Common Sizes
12" Depth
22" Depth
30" Depth
38" Depth