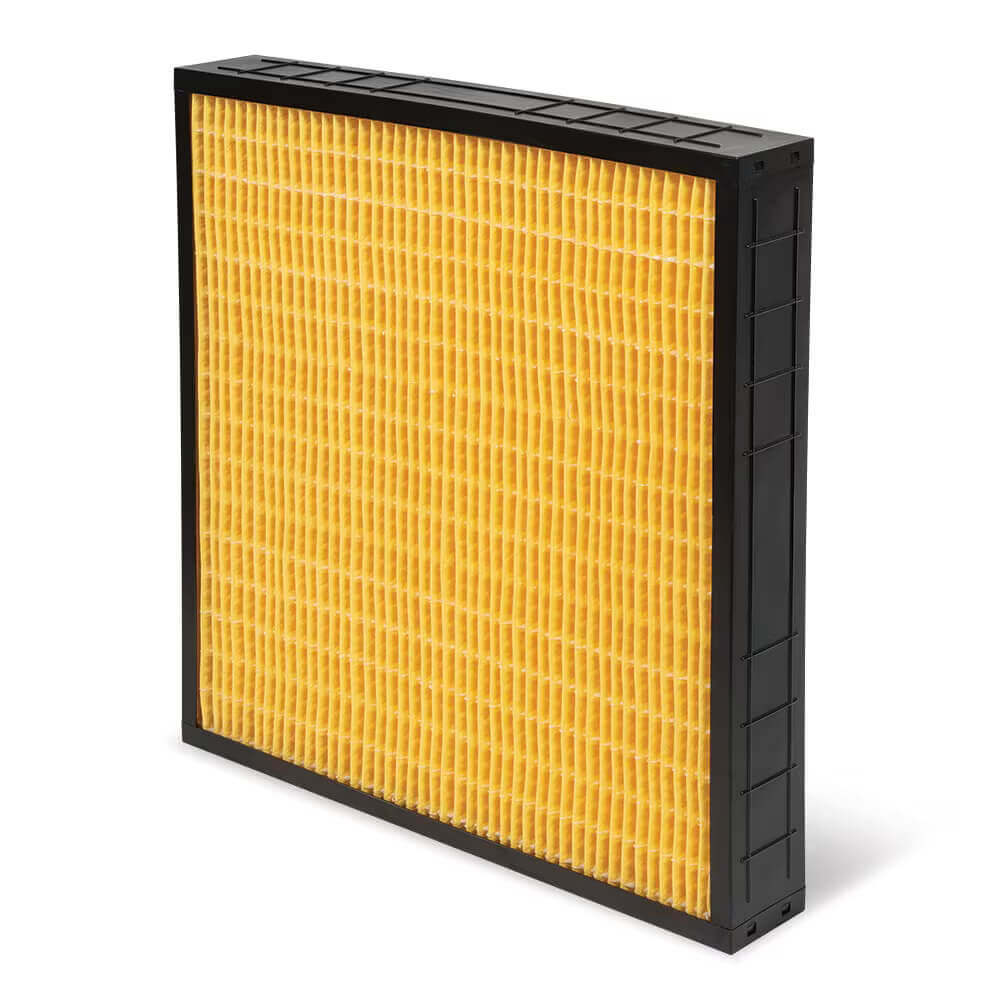 LoadTech
High Efficiency Filters
* Replaced Dominator Filters *
LoadTech Filters - Construction
LoadTech® high-efficiency, low initial pressure drop rigid cell filters with E-Pleat® media technology are excellent for commercial applications. E-Pleat® media technology holds 2x the dust as conventional rigid cell style filters!
LoadTech filter's 4-inch design has a MERV 11 rating and offers the same filtration performance as a 12-inch filter but in a much smaller envelope, resulting in simplified handling plus reduced storage space requirements. LoadTech rigid cell filters are also available in 12" depths with a MERV 11 or MERV 15 rating.
Glue Bead Adhesive Strips Stabilize Pleat Pack - Beads of adhesive applied to the media bond the pleats into a totally rigid, solid pack. The pleats hold their shape and the molded channels are held open for free flow of air in all types of operating conditions. No pleat deformation, no blocking off.
Rigid Cell Design Handles Difficult Operating Conditions - Rigid cell design, all plastic components and 100% synthetic media make LoadTech filters ideal for the most demanding operating conditions, including variable air volume systems, high air flow, turbulence, repeated fan shut down, high moisture, and some chemical or corrosive conditions. These rigid cell filters are designed for tough installations.
Full Media Exposure Produces High Dust Holding Capacity - Proprietary E-Pleat® media technology efficiently directs air flow through the filter. The E-pleat® design not only produces low resistance, it also allows the media to be completely exposed to dirt laden air. Dirt loads evenly over every square inch of filter surface area for maximum dust holding capacity and long service life.
100% Synthetic Media - LoadTech rigid cell filters are made with 100% synthetic media. These filters are extremely durable, resists tearing, abrasion and is highly damage resistant. No more media damage during shipping, handling or installation. LoadTech media is also unaffected by exposure to moisture and some chemicals. This media is just plain tough!
Underwriters Laboratories, Inc. Classification:LoadTech filters are classified U.L. Class 1 per U.L. Standard 900.
Documents

LoadTech Info Sheet