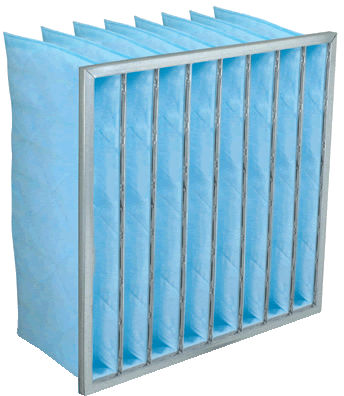 Purolator
Defiant Bag
Extended Pocket Filters
Defiant Bag Filters - Construction
Defiant bag filters 70/85/95% media meets today's ASHRAE challenges in process control and contami- nant reduction. The unique, patented non-woven process used to manufacture Defiant bag filters create a media which outperforms similar products with respect to initial efficiency, average efficiency, and dust holding capacity.
The continuous hydrophobic fibers which make up Defiant media do not absorb moisture and are thermally bonded to eliminate the need for chemical containing binders that could promote microbial growth or generate VOCs. Both characteristics create a durable media able to withstand turbulent, high velocity conditions, even when high humidity is a factor.
Improved Efficiency - Defiant bag filters utilize dual-stage electrostatic enhancement and continuous fiber structure to initially capture an increased amount of smaller particulate than conventional glass media—thereby improving overall particle size efficiency.
Applications - Defiant 70/85/95% media bag filters are specifically manufactured for system applications requiring high efficiency, non-shedding media filtration. These include hospitals, health care facilities, food process- ing plants, pharmaceutical manufacturing, telecom- munications, and other HVAC applications. Defiant 70/85/95% media has multiple performance characteristics which combine to provide optimum filter service life and lower maintenance and energy costs.
Technical Information
Name:

Purolator Defiant Bag Filter

MERV Rating:

14,15

What's This?
Underwriters Laboratories, Inc. Classification: Defiant Bag filters are classified U.L. Class 2 per U.L. Standard 900.
Documents

Purolator Defiant Bag Info Sheet
Most Common Sizes
12" Depth
15" Depth
18" Depth
22" Depth
26" Depth
29" Depth