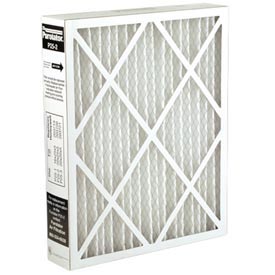 Purolator
P25
Medium-Efficiency Replacement Air Filters
P25 Filters - Construction
With the increased awareness of indoor air quality, many consumers are looking for higher efficiency air filtration products. P25 replacement filters capture more particles in the air than a traditional one-inch disposable filter.
Did you know that over 99% of airborne particles are visible only with a microscope? Visible dust is only 1% of the particles in the air stream. Small airborne contaminants can coat wall, carpets and drapes, and even damage the efficiency of your HVAC system.
So, where do all these particles go that are trapped in the filter? In the trash, with the P25! Simply remove the old filter and drop in a new one. Your hands never touch the contaminated filter media. Because the P25 is enclosed in its own frame, installation is simple and easy.
Frame - P25 replacement filter elements are enclosed in a two-piece, heavy duty, high wet strength beverage board frame. The double wall frame forms a rugged, durable filter, which will not warp, crack, or leak.
Suggested Product Specifications - P25 filter media shall be (5") deep, medium efficiency, pleated media, disposable panel type. The media shall be made of continuous, synthetic, hydrophobic (non-water absorbing) fibers that are thermally bonded and freefrom any chemical binders.
Technical Information
Underwriters Laboratories, Inc. Classification: P25 filters are classified per U.L. 900 for flammability.
| Nominal Size | Actual Size |
| --- | --- |
| 16" x 25" x 5" | 16" x 24 7/8" x 4 3/8" |
| 20" x 20" x 5" | 20" x 19 3/4" x 4 3/8" |
| 20" x 25" x 5" | 20" x 24 7/8" x 4 3/8" |
Documents

P25 Info Sheet