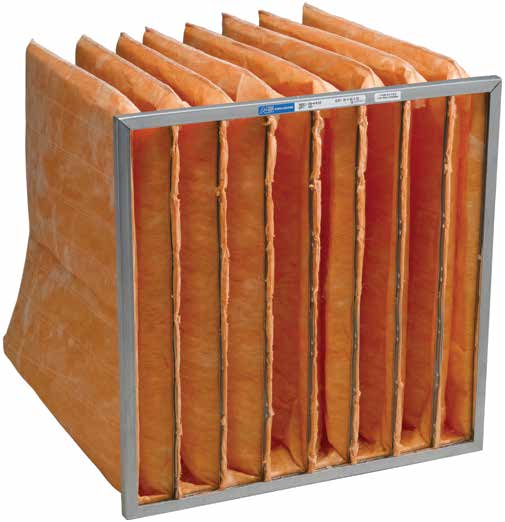 Purolator
VENTI-PAK Fiberglass
High-Efficiency Extended Surface Microglass Bag Filter
Venti-Pak Filters - Construction
Venti-Pak bag filters provide the best value in medium to high-efficiency filtration. Venti-Pak filters are made of high-loft micro-glass media to deliver maximum dirt holding capacity. The media is unaffected by moisture or humidity and pocket integrity is maintained through a double lock stitch and span stitch design that allows air to flow smoothly through the filter. VentiPak bag filters are available in a variety of sizes and pocket counts in varying efficiencies.
Sewn Pocket Construction - Venti-Pak bag filters sewn pocket construction is formed with an over edge double lock stitch that provides high burst strength. Pocket inflation is controlled with a span stitch design to maintain separation between adjacent pockets. A thermoplastic sealant applied over the stitch lines locks the stitches and prevents leakage.
Total Pocket Inflation - Formation of the pockets (by span stitching or sonic welding) creates a wide open entrance into each pocket. Uniformly shaped channels permit maximum air flow with minimum resistance. Total pocket inflation results in complete use of the media, high dust holding capacity and long service life.
Fail Safe Pocket Attachment - Adjacent pocket retainers are fastened together with a high strength mechanical staking process that secures the pockets and prevents separation at very high resistance or under turbulent conditions. A rugged spun bonded synthetic scrim backing on the air leaving side of the pockets protects the media from tearing or erosion.
Rugged Construction - Venti-Pak filters header and pocket retainers are made of galvanized steel for high strength, durability and rust resistance. The roll formed header is a single piece U-channel with multiple bends for extra rigidity. A built-in stop inside the header channel prevents racking.
Technical Information
Name:

Purolator Venti-Pak Bag Filter

MERV Rating:

11,13,14

What's This?
Underwriters Laboratories, Inc. Classification: VENTI-PAK filters are classified U.L. Class 2 per U.L. Standard 900.
Documents

Purolator Venti-Pak Info Sheet
Most Common Sizes
12" Depth
15" Depth
18" Depth
22" Depth
29" Depth
36" Depth