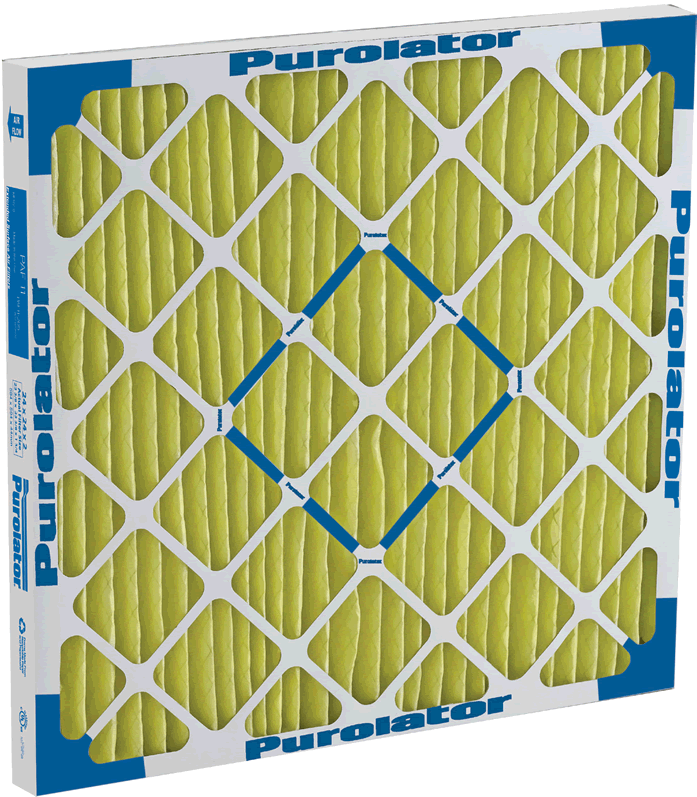 Purolator
PAF 11
Medium Efficiency, Synthetic Pleated Filters
While this filter series has been discontinued, Please Call for a direct replacement that is guaranteed to fit and perform.
PAF 11 Filters — Construction
PAF 11 pleated filters medium-efficiency, extended surface, pleated air filters are specifically manufactured for system applications requiring improved medium-efficiency, non-shedding filtration media. PAF 11 filters outperform similar products in initial and average efficiency — they are effective in single filter applications or as improved pre-filter substitutes for disposables, permanent metal filters or media pad/frame filters.
Applications - PAF 11 filters provide prefiltration for hospitals, general health care facilities, food processing plants, telecommunications, pharmaceutical and semi-conductor manufacturing, etc.
Media - PAF 11 pleated filters are composed of synthetic media that's made-up of continuous hydrophobic fibers that don't absorb moisture and can withstand turbulent, high velocity conditions. These fibers are thermally-bonded to eliminate the need for chemical binders that could promote microbial growth or generate VOCs. The continous fiber stucture and dual-stage electrostatic enhancement improves overall particle size efficiency and captures an increased amount of smaller particulate than conventional glass media.
Media Support - Continuously bonded to a corrosion resistant, expanded metal grid allowing a 96% open face area.
Pleat Configuration - Formed into aerodynamic, semi-tapered, wedge-shaped pleats expanding its capability to capture contaminants.
Frame - Enclosed in a two-piece, high wet-stength beverage board frame.
Assembly - A fully bonded double-wall frame combines with the integral corner flaps and forms a rugged, durable filter which will not crack, warp or leak under normal operating conditions. To ensure no dirty air bypass, the media pack is securely bonded to the periphery of the frame with solvent-free, water-based glue. In 4" models, accurate pleat alignment is maintained by die-cut pleat spacers on the upstream side.
Underwriters Laboratories, Inc. Classification: PAF 11 filters are classified per U.L. Standard 900 for flamability.