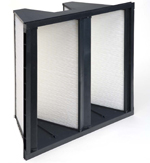 Purolator
SERVA-CELL 2VS
High Efficiency Extended Surface Mini-Pleat Filters
Product Information
SERVA-CELL 2VS filters offer an excellent option for applications currently using rigid cell style extended surface filters. They are a good replacement for corrugated separator style or supported pleat style rigids. Applications: For conditions such as high humidity, turbulent airflow, intermittent water exposure, and elevated operating temperatures. MERV 11, 13, and 14 efficiencies available.
Media and Support - SERVA-CELL 2VS filters are made with synthetic media. It is extremely durable, resists tearing and abrasion, and is highly damage resistant. No more media damage during shipping, handling, or installation. This media is just plain tough.
Construction Features - SERVA-CELL 2VS filters are made from high strength, high impact polystyrene plastic. They contain no metal components. No rust, no corrosion. All plastic components with synthetic media make SERVA-CELL 2VS filters completely incinerable. Growing restrictions on landfills in many areas make incineration the most viable disposal option.
Underwriters Laboratories, Inc. Classification: SERVA-CELL 2VS filters are classified U.L. Class 1 per U.L. Standard 900.