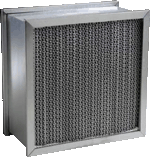 Purolator
SERVA-CELL GT
High Efficiency Heavy Duty Barrier Filters
Product Information
The Purolator SERVA-CELL GT filters provide high efficiency filtration to prevent fouling and damage to turbine blades. Clean inlet air helps keep units operating at like-new efficiency. No loss of output efficiency due to dirt deposits or blade damage. SERVA-CELL GT has the lowest pressure drop of any high efficiency barrier filter which translates to thousands of dollars in energy cost savings. SERVA-CELL GT filters are engineered to provide rated efficiency and maintain structural integrity under the extreme operating conditions experienced by turbomachinery applications.
Media and Support - SERVA-CELL GT filters dual density media collects dirt throughout the entire depth of the media. SERVA-CELL GT has a water repellent binder which makes it unaffected by intermittent exposure to humidity and moisture.
Construction Features - SERVA-CELL GT filters snap lock assembly makes the filter durable over a long service life. SERVA-CELL GT single rivet header construction minimizes the number of loose parts to penetrate downstream. Its 24 guage galvanized components feature heavy duty construction that prevents rust.
Underwriters Laboratories, Inc. Classification: SERVA-CELL GT filters are classified U.L. Class 2 per U.L. Standard 900.