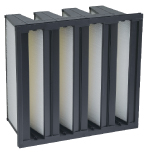 Purolator
SERVA-CELL PV
High Capacity Extended Surface Mini-Pleat Filters
Product Information
The Purolator SERVA-CELL PV filters offers the benefits of ASHARE filtration performance, lightweight matierials, and industrial strangth construction able to withstand nominal air flow of 750 FPM. SERVA-CELL PV filters features revolutionary, exclusive DURA-TUFF synthetic media which is extremely durable, resists tearing and abrasion, damage resistant, highdust holding capacity.
Media and Support - SERVA-CELL PV filters allow low pressure drop and maximum use of the filtration surface area combine to increase filter service life and allow for maximum efficiency ratings. The new all plastic frame construction allows it to be user and environmentallty friendly. The new frame is lighter and completely disposable through incineration.
Construction Features - SERVA-CELL PV filters feature an all plastic frame. To assure no dirty air bypass, the media pack is securely bonded to the periphery of the enclosure frame. Tested in accordance with U.L. Standard 900, ASHARE 52.1-1992 and ASHARE 52.2.
Underwriters Laboratories, Inc. Classification: SERVA-CELL PV filters are classified U.L. Class 2 per U.L. Standard 900.