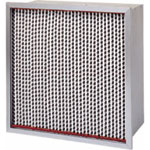 Purolator
SERVA-CELL High Temp
Extended Surface ASHRAE-Rated Filter
Product Information
The Purolator SERVA-Cell® High Temp is a high efficiency, extended surface, ASHRAE rated air filter. Its rigid filter construction eliminates the need for retainers and special external wire media supports. A high surface area to depth ratio provides the maximum amount of effective filter media in areas of minimum in-line duct space. MERV 11, 13 or 14, Average arrestance: 97-99% Recommended airflow rate: 500 FPM Available in four standard filter face sizes
Media and Support - Media: Continuous sheet of non-combustible, waterproof, microfiberglass.
Pleat configuration: Radi-edge configuration promotes maximum exposure of media surface area to airflow.
Pleat support: Pleated around radi-edge, corrugated aluminum separators. All filter packs to be woven on an automatic weaving machine.
Construction Features - Frame: All metal, corrosion resistant, aluminized steel casing— available with a single header. An expanded metal grid is attached upstream and downstream providing additional pack support within the frame. The media pack is secured to the four inner surfaces of the frame with a microfiberglass blanket. Available with a single-channel unitized header. Tested in accordance with ASHRAE 52.2-2007. Recommended operating temperature: max. 750ºF. Classified per UL Standard 900 for flammability only
Technical Information
Name:

SERVA-CELL High Temp

MERV Rating:

11, 13, 14

What's This?
Underwriters Laboratories, Inc. Classification: SERVA-CELL PV filters are classified U.L. Class 2 per U.L. Standard 900.