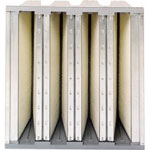 Purolator
SERVA-CELL VA
High Efficiency Extended Surface Mini-Pleat Filters
Info Box
Select the efficiency that is best for your application.
Product Information
The Purolator SERVA-CELL VA offers the benefits of ASHARE filtration performance, lightweight materials, and industrial strength construction able to withstand nominal airflow of 2500 CFM. The SERVA-CELL VA captures particulate in the size range of fine dust, soot, pollen, smoke, bacteria, and vapor making it ideal for most air conditioning filter applications. MERV 11, 13, 14, and 16 efficiencies available.
Media and Support - SERVA-CELL VA filters consists of microfiberglass paper coated with a water repellent binder. This binder promotes media resistance to intermittent moisture exposure which might otherwise affect media performance. The media composition causes no dust mitigation or shedding, thereby protecting the HVAC system equipment.
Construction Features - SERVA-CELL VA filters have a plastic frame. To assure no dirty air bypass, the media pack is securely bonded to the periphery of the enclosure frame. Tested in accordance with U.L. Standard 900 and ASHARE 52.2-2007
Underwriters Laboratories, Inc. Classification: SERVA-CELL VA filters are classified U.L. Class 1 per U.L. Standard 900.